What
"NeuroYoga"

™ workshops, retreats, or classes are available?
New!

NeuroYoga.Zone™ "Yoga for Trauma/PTSD Relief"

Very few standard yoga programs are appropriate for individuals dealing with Complex Trauma and PTSD according to a presenter at the recent 2018 Healing Trauma Summit. These individuals should seek programs that are adapted to their specific needs and based on the evidence based science for relief of Complex Trauma and PTSD. The NeuroYoga.Zone™ "Yoga for Trauma Relief"™ programs meet that criteria. These programs are not your average yoga class. They address the specific needs of individuals who are dealing with Complex Trauma and PTSD. Details

K.B. (Miamisburg, Ohio)
Two months after my first Yoga for Trauma/PTSD Relief session:
" Keith is a wealth of knowledge and experience! I have struggled with Complex PTSD for more than a decade. I am familiar with meditation and yoga but had not been successful in applying those techniques to relieve my symptoms prior to meeting Keith. His presence is calm and reassuring. He openly shared with me his own journey of burnout and subsequent healing, which in my opinion adds tremendous credibility to teacher's practice. By incorporating the practical yoga and lifestyle changes he recommended, I am now in a position where I feel a significant and consistent decrease in PTSD symptoms. I am very grateful to have met Keith, and continue to work with him. His insight has been invaluable to my life. Thank you Keith! "
New!

NeuroYoga.Zone™ Concierge Services
Want to avoid the crowds of fitness centers?
Want to avoid noisy the environments of fitness centers?
Need your specific concerns addressed outside of a group class setting?
Or, just want to pamper yourself, or gift someone special?
Want to bring wellness programs to your workplace?
Why not schedule NeuroYoga.Zone ™ at your personal convenience? Details
New!

NeuroYoga.Zone™ "VIP Wellness Days"

These fully integrated NeuroYoga™ "One-on-One" days are for those who are seeking more than just a physical yoga practice. We share a hand crafted organic gourmet meal, some yoga of course, and we also explore Yoga2Life™ Coaching to deconstruct what is happening in your life to see where greater synthesis might occur, where bad habits are sabotaging your goals, or how to tailor a meditation practice and self-care rituals that will keep you on the path to success!! No two VIP DAYS look alike! They are 4 hour exploratory experiences customized uniquely for you or someone special. Makes a great gift for a special occasion. Let's Play! Details
"NeuroYoga.Zone" ™ "Yoga2Life"™ and Consciousness Coaching™
NeuroYoga.Zone is now offering certified "Yoga2Life"™, Consciousness Coaching™ — coaching that is aligned with the guiding principles of yoga and neuroscience to raise consciousness and maximize possibilities and potential.

Contact us for more information or to schedule a "Yoga2Life"™ or Consciousness Coaching™ for individuals or groups.

Here is what recent recipients of "Yoga2Life"™ coaching from NeuroYoga.Zone said:
J.M. (Cagayan de Oro City, Philippines)
Just one day after her very first coaching session:
"I'm no longer just breathing... I'm alive coz I'm doing things that I love, exciting times for me... Sometimes I found myself stuck up because of certain obstacles on my way. I've seen coaching as helping me look into the situation in a different perspective through the guidance of a coach. With his insights and wisdom I was able to realize that what seemed to be out of my control factors is actually within my control."
O.N. (Stockholm, Sweden)
"Just three days after his very first coaching session:
I found out that I do have gifts that I can give to the world, and that they are valuable...
I got a lot more self-confidence and clear on what is my next step...
I would recommend coaching, because it's hard figure everything out on your own, and a lot of people need the extra push to get started on what they dream about...
Thank you for being so calm and relaxed... It made me feel safe....
I've already had some progress so thank you so much..."
"Yoga2Life"™ coaching can be done by phone or Skype with anyone anywhere in the world and applies the latest neuroscience to facilitate change and liberate your goals, passions and dreams.
What's holding you back from reaching your full potential? Contact us for more information or to schedule a "Yoga2Life"™ individual or group coaching session.
"NeuroPatterning"™ Meditation
6 week session 1 hr/week
Meditation is an ancient technique and effective means of stress management. The latest research in neuroscience shows that our brains and bodies can be significantly affected by meditation, especially in the areas of relaxation, emotional integration, self-awareness and compassion for ourselves and others. In this class we will explore very simple techniques based on neuroscience that can be incorporated into your lifestyle. Each class will include a meditation experience as well as time for questions and answers. Dress comfortably.
"NeuroYoga"™ for Relaxation
10 week session 1.5 hr/week
"NeuroYoga"™combines the latest in neuroscience with Yoga (the oldest most holistic system of body-mind fitness used the world over). What neuroscience is revealing about yoga is exciting because essentially it's starting to catch up with yogic wisdom. Not only does Yoga reduce stress and enhances health and creative energy, it can improve your brain/mind/body/spirit connection and makes you stronger, healthier, more relaxed, and more capable of self-actualization. NeuroYoga can accelerate the process even more. It's not magic; it's proven by science. For comfort, please wear loose clothing and bring and exercise mat to class.
"Brain Maker"™ Seminar
3 hrs.
In school or in life, were you taught anything about your brain and how understanding its functions could help you? Were you taught how the brain can affect your health physically, mentally, emotionally and spiritually? Were you taught anything about how to keep the brain healthy?
It weighs about three pounds
It has hundreds of thousand blood vessels
It contains more connections than there are stars in the Milky Way
It controls every level of our biology and our lives
It is the fattest organ in the body
It controls every level of our biology and our lives
So, why not learn more about the most important part of our bodies and how to better utilize its amazing abilities? In this seminar, you will learn what the latest neuroscience revels about our brains and the brain/body connection, and how to improve the health of both.
Who can attend the workshops, retreats, or classes?
Everyone over the age of sixteen — with or without prior experience is invited to join us for these innovative and highly experiential offerings.
Who is the Instructor?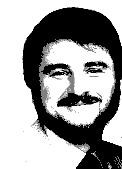 Your guide, Keith Engelhardt A.S., B.A., MYT will share how to apply neuroscience, neuroplasticity, mindfulness, meditation and yoga to transform your life, and your yoga and meditation practice.
Keith is a Master Yoga/Meditation/Mindfulness instructor (1000+ hours) and has committed several decades to helping people release and reverse the impact of stress in their lives. He has been teaching Hatha Yoga and Meditation for over 30 years at Dayton area institutions including Montgomery Co. Career Technology Center, The Dayton Heart Fitness Center, and Samaritan North Wellbeing Center. He has also taught yoga to the touring cast of CATS ™. In addition, he is a certified "Yoga2Life"™ Mentor Life Coach, and has a certificate in Neuroscience & Yoga in the Treatment of Complex, Developmental, or Repeated Trauma." He also has experience with yoga and the treatment of anxiety and depression and he is a member of the Montgomery County Prevention Coalition and its Mental Wellness Subcommittee. You can trust Keith to guide you to the awakening of your potential and possibilities with meditation, mindfulness and yoga.
Join Keith as he guides you to a level of tranquility few of us experience in our hectic daily lives.
Learn more about Keith on his Dayton Yoga website or at his About.me page.